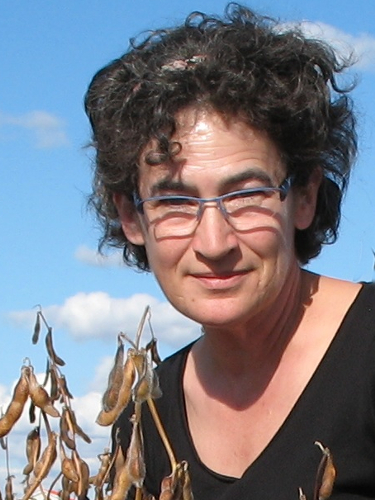 Researcher
CEROM
Research Scientist
Research interest
Trained as a cytogeneticist, classical and molecular geneticist, I have been working for many years in crop genetic improvement. I am particularly interested in the development and integration of genomic tools in applied plant breeding. I have developed molecular markers for selection in various crops, have used genomic information to characterize germplasm in order to optimize parental selection and allow the efficient use of genetic diversity. I currently breed soybean and flax while developing and integrating the genomic tools into my breeding program. I have a particular interest in the genetic control of early maturity and environmental adaptation in soybean.
Ph.D. Biology, University of Cambridge, Cambridge, U.K.
Plant Science, McGill University
---
5 Latest publications
Soybean (Glycine max) Haplotype Map (GmHapMap): a universal resource for soybean translational and functional genomics

Characterizing resistance to soybean cyst nematode in PI 494182,an early maturing soybean accession

Integrated QTL mapping, gene expression and nucleotide variation analyses to investigate complex quantitative traits: a case study with the soybean-Phytophthora sojae interaction

A Systematic Gene-Centric Approach to Define Haplotypes and Identify Alleles on the Basis of Dense Single Nucleotide Polymorphism Datasets

Identification of novel loci associated with maturity and yield traits in early maturity soybean plant introduction lines
---
I am in charge of activity 2 which aims at developing and integrating into the breeding programs, Soyagen's genomic tools and information databases with the ultimate goal of efficiently and rapidly developing early maturity high yielding soybean varieties adapted to the various agro-environmental conditions of Canada. This activity involves the characterization, identification and utilization of maturity genes as well as the integration of other genomic tools being developed under Soyagen into the breeding programs of the participating breeders.
I am also involved in objective 4 that targets the development of selection tools to facilitate the development of varieties with increased disease resistance. Particularly, I work on the development of markers for novel sources of Soybean Cyst Nematode resistance and also collaborate on the development of selection tools for horizontal resistance to Phytophtora sojae.
Finally, as a member of the Steering committee, I participate in the coordination of the science activities.
---
Aurélie Tardivel, CEROM/Université Laval, PhD Student
Eric Fortier, CEROM, Research Associate
Martin Tremblay, CEROM, Lab Manager
Maryse Desrochers, CEROM, Technician
Tanya Copley, CEROM, Researcher
Vincent-Thomas Boucher St-Amour, CEROM/Université Laval, M.Sc. Student
---