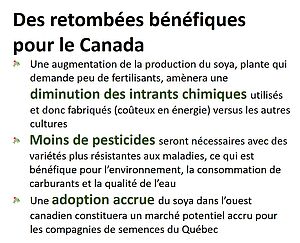 Soybean is a rapidly growing crop that offers many potential benefits to Canadian growers. It is a multipurpose crop whose seeds are an extremely valuable source of both protein and oil, for either humans or livestock. From an environmental point of view, it is also highly attractive, as it does not need any chemical fertilizer to provide it with nitrogen, a major plant nutrient it naturally extracts from the air with the help of friendly bacteria in the soil. Three important challenges are faced when trying to develop high yielding soybean varieties that are well suited to Canadian conditions. Firstly, these varieties need to reach maturity and produce seed in record time, as Canadian summers are notoriously short. Secondly, these varieties need to be made more resistant to pests and diseases that will otherwise reduce crop yield and require the application of pesticides in some cases. Finally, soybean is quite a novel crop in many regions of Canada and there is room for considerable expansion, but key impediments to farmer adoption of this crop need to be identified and addressed. Genomics offers essential new tools to aid in this. Foremost, spectacular progress in sequencing technologies have made it possible to characterize the genetic makeup of crops like never before. By probing deep into the genetic code of soybeans, it is possible to identify DNA markers that control key aspects of plant growth such as the time needed to reach maturity and resistance to diseases and pests. Once we have identified such DNA markers, breeders will be able to use them more rapidly and easily to develop improved varieties. Economic and social research will complement the genomics research by focusing on institutions and policies that will maximize the growth potential of the soybean industry. We have assembled an exceptional team of research scientists to take on this task and have gained wide support from grower groups and key players in the seed industry.
Soybean is the third most important field crop in Canada, generating annual revenues exceeding 2.5B$, and has shown the greatest increase over the last five years. Developing new, high-yielding soybean varieties that are adapted to the short growing seasons typical of Canadian conditions requires an in-depth understanding of the genes that control maturity in soybean. As the importance of the soybean crop has increased, so have problems due to pests of which three are currently of concern: Phytophthora root rot (PRR; caused by Phytophthora sojae), soybean cyst nematode (SCN; Heterodera glycines) and Sclerotinia stem rot (SSR; Sclerotinina sclerotiorum). These can contribute to important losses resulting in a strong interest of both growers and breeders for improved resistance. Finally, the rapid expansion of the soybean crop in Western Canada raises important questions regarding the drivers of this adoption and its sustainability. In preparing this proposal, we have constantly sought out the input of a large number of end-users, many of whom are part of our team, who will benefit directly from the many tangible deliverables that we aim to produce throughout this work.
The proposed research program comprises five activities: 1) Development of cost-effective high throughput genotyping tools; 2) Improved selection tools to achieve high yield in short-season soybean; 3) Diagnostic tools to determine the presence and type of PRR and SCN in Canadian fields; 4) Improved selection tools to develop new varieties with increased resistance to two key pathogens (PRR and SSR) and one pest (SCN) found in Canadian fields and 5) Identification of what is required to maximize the innovation potential of the soybean industry.
In Activity 1, whole-genome sequencing will be used to characterize the Canadian short-season soybean germplasm. This will enable rapid and cost-effective DNA marker analysis. In Activity 2, we will use genomics to identify and characterize the various alleles of the key genes controlling maturity. Genomic selection methods will be established to facilitate the development of high yielding short-season soybean varieties. In Activity 3, we will develop genomic tools to rapidly screen and identify the different races of P. sojae (PRR) and pathotypes of H. glycines (SCN). In Activity 4, marker-assisted selection will be used to develop varieties resistant to two key diseases (PRR and SSR) and one pest (SCN). Finally, in Activity 5, we will undertake socio-economic research to 1) inform the development of policy that will enhance the adoption and sustainability of soybean production; 2) explore the drivers of on-farm adoption, supply chain development, trade and transportation policy, regulatory barriers and research funding models.
During the course of this program, we will produce the following deliverables: 1) A platform for rapid and low-cost genotyping; 2) Selection tools to enable breeders to more rapidly select lines with improved yield and disease resistance in short-season soybean; 3) Diagnostic tools to identify the presence and type of P. sojae and H. glycines in Canadian fields; 4) A geographic map of the distribution of P. sojae and its specific pathotypes throughout the soybean production areas in Canada; and 5) A data-informed outreach strategy to accelerate producer adoption of soybeans in western Canada.
The proposed work will yield economic benefits in many ways. Firstly, genomics and improved selection techniques will increase the yield potential of improved varieties (25M$/yr). Secondly, increased resistance against biotic stresses will push realized yield upward and reduce pesticide use (99M$/yr). Thirdly, the increased adoption of soybean in crop rotations will increase profitability, reduce N fertilizer use and contribute to a reduction in diseases on other crops (154M$/yr). Finally, this work will contribute to decrease the use of pesticides used to combat soybean diseases. In total, we estimate that the economic benefits have the potential to reach ~278M$ per year.
You may want to know more on ...